Near San Francisco is one of the North American towns with the greatest tourist attraction: Sausalito, located in California. Why it attracts tourists so much is obvious. Sausalito stands out for its floating houses. Yes, you heard correctly. If you thought that the floating towns and villages were more a thing of Asian regions like Vietnam (where the wonderful floating village of Cua Van is located, a World Heritage Site), you are very wrong: in the West, there are also those who love to live in houses on the water, halfway between boats and traditional buildings. If you want to know more, we give you some ideas about what to do in Sausalito, California.
What to do in Sausalito?
Sausalito is located in San Francisco Bay, in Marín County, and has only seven thousand inhabitants. It is still a place full of charm where it is worth making a stop if, for example, you are going to take a route along the coast of the United States.
This town has a great reputation as an artists' colony and a refuge for bohemian people, and today it still is. In fact, the floating houses that we talk about in this article are for the most part residences of prestigious plastic artists.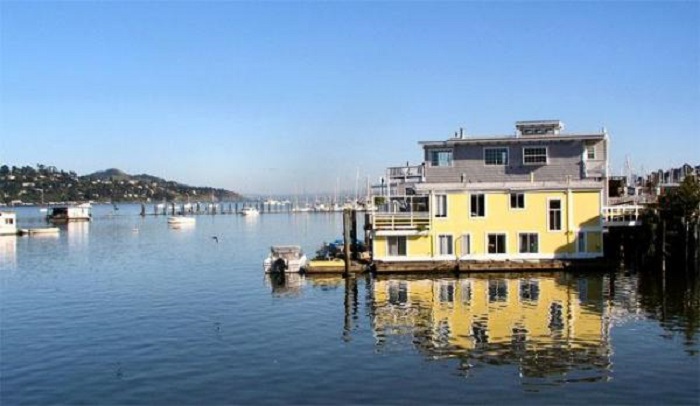 Sausalito houseboats
A good tip, if you are going to take a walk around this neighborhood, is to call the houses "floating homes". Its inhabitants love this name. The area is open to visitors and the gates of the pontoons (access platforms or piers) are also open to circulate freely.
In order to see the widest variety of buildings, it is worth taking a stroll along Gate Route 5 (Gate 5 Road) in the Main Dock area, and along Gate Route 6 (Gate 6 Road). ) in the Waldo Point Harbor area.
The Golden Gate Bridge: the most famous in San Francisco
The Golden Gate, which is located very close to Sausalito, is one of the most famous suspension bridges in the world. It links the San Francisco peninsula with Marin County, and the Golden Gate was once the greatest engineering feat of the time.
However, despite being the best-known bridge in San Francisco, it is not the largest, as it is larger than the Bay Bridge, which is also the main bridge in the city. So if you visit Sausalito, apart from immersing yourself in the bohemian houseboats, don't miss the Golden Gate and its more than two thousand meters long.
You may like also to read https://whizowl.co.uk/