Knowing how to choose a hotel on the coast is key to not being disappointed. Also to get an accommodation with a good value for money. And according to your personal requirements. Do not you know where to start looking? Do not worry, we help you make the best choice for you step by step.
How to choose hotel on the coast step by step
Choose the destination area
What area do you want to go on vacation? Before knowing how to choose a hotel on the coast, it is convenient that you choose which area of ​​the coast you want to be located.
Maybe you do not have special preferences and just look for a good beach destination . But it is important that you define the area that interests you most, although not with great precision. It is likely that there is a province that interests you more because you already know it or just the opposite. Or maybe you prefer the proximity to a specific airport with arrivals and departures from your city
Determine what are your three priorities for a good accommodation
Knowing what you want is the key to achieving it. Therefore, it is important to determine which are your three properties to choose a hotel on the coast. That admit pets ? What has a family atmosphere? That it has a pool area and ample sunbathing or several small intimate pools? What is less than 5 minutes from the beach or have parking for your car? Have nighttime and daytime entertainment or a place designed for relaxation, bed and rest? That the room has a specific style, that the bathroom has a Jacuzzi or that it has a terrace?
Having clear at least your three priorities you will know how to choose hotel on the coast more easily. In fact you can discard several at a stroke.
Define what basic services you demand from a hotel on the coast
Usually when it comes to choosing an accommodation in a coastal area, the most valued services of a hotel are:
The free buffet.
The proximity to the beach.
Free wifi throughout the hotel grounds.
The air conditioning in the room.
Be clear about what services you are not willing to do without and eliminate from the equation all those that do not meet those requirements.
Determine your budget
It's time to talk about money. Yes, in an ideal world this would not be relevant. But it is the life of most mortals. So, be clear about your ideal price range and what your top limit is for each night of accommodation. And respect it when making your choice if you do not want to have financial problems.
Mark on the map the hotels that most interest you taking into account the attractions and problems of the area
Surely every time there are fewer hotels that meet your requirements in the area that interests you. It's time to mark them on the map. In this way you can have a better view of the possibilities of each specific area.
Rate those that are close to the points that are attractive for your vacation . For example, the beach, a certain leisure area, a park in which to walk your pets or a restaurant area with shows for dinners.
Find information about the most interesting ones that have worked for you and eliminate all those in which you detect that it is a problem area. For example by night noises or by a bad general atmosphere.
Check how the facilities are and when are the photographs that the hotel website shows you
Especially you should look at the room. Do not take negative surprises when arriving at the place.
Search reviews and reviews about the hotels that most interest you
Currently it is easy to find opinions and reviews about accommodations, unless they are recently opened. With some distance about the best and worst comments, keep in mind what is said about them.
It's not just about knowing if you get 1 or 5 stars. Also of what sticks or advantages speak, because they will give you many clues about the environment, the place and the service. Although what for one are advantages for another may be inconvenient.
Detect the differences between the hotels that interest you and make your decision
Is there still more than one hotel that you find interesting? You will have to detect the main differences between both. If you want to know how to choose hotel on the coast with success, you will have to compare between them.
The key can be issues such as price, the price of dining on it or drinks in the pool area.
Do not get complicated thinking how to choose hotel on the coast. Following these steps you will find it very easy to find the right accommodation for your beach vacation.
Identify what is most important to you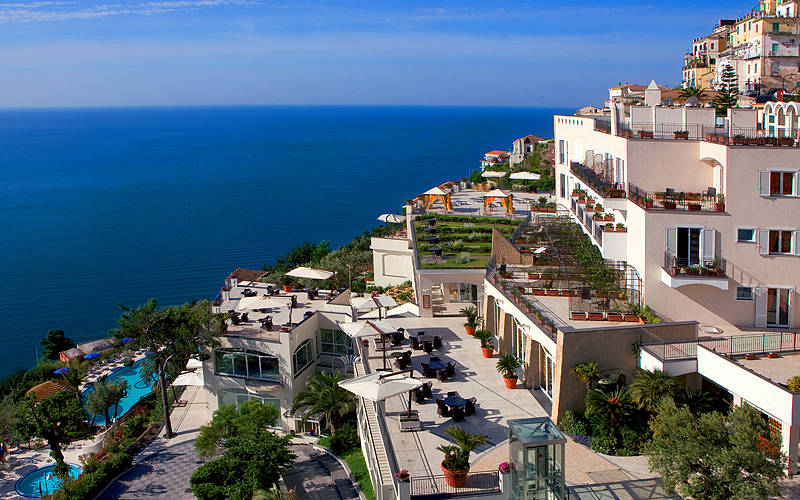 If you do not know what you want from a hotel, how can you expect to choose the right one? Before looking for accommodation, make a quick list of the things you need to have a good night. Is it a free breakfast? Do you feel more comfortable in a smaller and more intimate property with staff that will learn your name? Are you willing to splurge for a luxurious experience? Do you like outdated decor, business rooms or ornate interior design? To break it down just think about what you want in terms of price, basic services and location. From there, you can take into account things like the history of the property, environmental practices and the personality of the place, such as "party atmosphere" or "romantic atmosphere". Once you understand what you are looking for you will find your ideal hotel.
Know the "Holy Grail" of services
There are four services or amenities that you must ensure that a hotel offers before you arrive: air conditioning, parking, wifi and breakfast. In all the rooms of the Costa del Sol hotels there is air conditioning, wifi and free breakfast buffet for the guests.
Check the hotel's website
It is always a good idea to directly check the hotel website or make a classic call! To clarify any concerns. On the Internet there are several sites specialized in hotel reviews although these are not always updated as it takes time to load details such as: when hotels change policies, add services such as a new restaurant or spa, or undergo a renovation, etc.
Accurately locate the hotel on a map
Choosing a hotel always has to do with the best location. If you do not know where your hotel is in relation to the place or the places you want to visit in the city, you will not be happy when you arrive. You probably should not trust the description of the hotel about its location. For example, hotels in Paris often say things like "The Louvre and the Eiffel Tower are easily accessible from our hotel". Many people assume that this means they can walk to the attraction, but what the hotel might be saying is that you can "walk" easily to a metro station within 15 minutes, and then "easily" travel by subway 20 minutes to a station close to these attractions. Before booking a hotel, check a map to determine the location of the hotel.When traveling and staying at the Costa del Sol hotels you will be close to everything as they are strategically located, within walking distance of shops, shops, restaurants and with easy access to transportation.
Find out when the rooms and common areas of the hotel were last updated
If the hotel has updated or renovated its spaces in the last four years, you can usually expect a clean and well-maintained decoration. No one wants to see dirt in the showers or on the wallpaper! Between four and six years is when things start to look old and a little deteriorated; more than six years; Well, you may not be satisfied with what you see. Do not concentrate solely on the decoration when you ask when the hotel was updated. It is also important to know things like when the mattresses were replaced, so that you do not end up sleeping in a flaccid bed.
Review the reviews
If you decide to read the comments of hotel guests on the websites, interpreting the rating can be tricky. Some hotels were fantastic five years ago in terms of management, decoration and services, and therefore, may have received an overwhelming number of positive reviews. However, many things can happen in five years, such as a change of administration, decoration or the hiring of new staff. Therefore, when you do research, be sure to focus on the reviews of the last year. This usually gives you a recent vision and a good idea of ​​what you can expect during your stay.
Discover who the hotel's clients are
Couples, business travelers, families, lonely travelers, backpackers, adults between 20 and 30 years old, groups of friends and travelers on a limited budget are attracted to different types of hotels. Before booking a hotel, find out what type of traveler tends to visit that hotel. If you want a quiet holiday, the hotels very popular with families traveling with small children or where youth groups are staying, will not be your best options in terms of tranquility.
Finally, In hotel on the coast del Sol we strive every day to give you the best service so come and enjoy our facilities! In any of our 9 venues you can enjoy comfortable rooms, good drinks and exquisite dishes, for these and many more reasons the Costa del Sol hotels are your ideal 4 star hotels