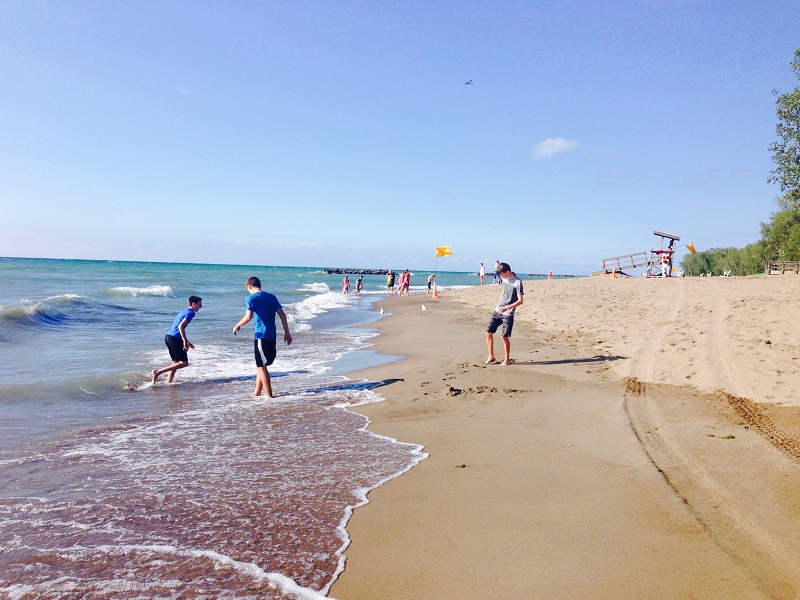 There is a Lake Erie beach for every bather. Touching the Canadian province of Ontario in the north and the states of Michigan, Ohio, Pennsylvania, and New York in the west, south, and east, Lake Erie is the shallowest, warmest, and most swimmable of the top five lakes.
The cities of Buffalo, New York; Erie, Pennsylvania; and Toledo and Cleveland, Ohio all enjoy the lake's proximity to Erie. (Detroit, Michigan is not much further away.)
With a coastline of more than 2,700 miles and dozens of public parks around the perimeter, it's an easy, adorable, and fun way to enjoy some quality beach time, even if there are no palm trees. And, come winter, it's easy to swap out your sunscreen for cross-country skis or an ice fishing pole at many of these parks.
Bennett Beach, Erie County, New York
With grassy dunes and a sandy shore, Bennett Beach is a great place to lay your towel. This life-guarded beach has free parking and strict rules forbidding cooking, drinking, and listening to music.
Crystal Beach, Fort Erie, Ontario
Just across the Niagara River from Buffalo, New York, Crystal Beach got its name from its crystal clear waters. A wide sandy beach with warm, shallow waters, this lakefront town has been attracting tourists since the late 19th century.
Evangola State Park, Irving, New York
The arched, natural, sandy shoreline here is perfect for swimming, but that's not all that Evangola offers. Share a meal in the picnic area or play a game at the baseball, soccer, tennis or basketball facilities. Spend the night at one of the park's 80 campsites or even rent a yurt.
East Harbor State Park, Lakeside-Marblehead, Ohio
You can drive or take the ferry to this Ohio peninsular park. East Harbor offers a 1,500-sand beach amid its vibrant wetlands, home to painted turtles, red foxes, and blue herons. In addition, there is disc golf.
Headlands Beach State Park, Geneva, Ohio
With the largest natural sandy beach in the state, Ohio's Headlands Beach State Park offers a mile of sand for bathers and swimmers. Lifeguards are on duty throughout the summer.
Kelleys Island State Park, Kelleys Island, Ohio
All 677 acres of this rocky, forested island off the Ohio coast are state parks, accessible by frequent private ferry from Sandusky and Marblehead. Kelleys Island State Park has a 100-foot public swimming beach as well as facilities for hiking, camping, boating, and fishing.
Long Point, Port Rowan, Ontario
Founded in 1921, Long Point is Ontario's fourth oldest provincial park, with a nearly 25-mile-long sandy and wooded beach jutting (like the name) into Lake Erie. It is also one of the best bird watching spots in North America, with more than 300 migratory and more than 80 nesting birds throughout the year.
Port Burwell, Ontario
Perfect for bird watching and sunbathing, Port Burwell has about 1.5 miles of sandy shoreline, and public restrooms and changing facilities (but no lifeguards).
Presque Isle, Erie, Pennsylvania
Pennsylvania's only "shore", the sandy Lake Erie outpost of Presque Isle, is open year-round. Swimmers can only jump into the water at one of the nine beaches on the island when they are guarded by lifeguards, between Memorial and Labor Day.
William C. Sterling State Park, Monroe, Michigan
Michigan's only state park on Lake Erie, Sterling State Park has more than a mile of beach, along with 1,300 other acres of parks and facilities, including campgrounds and miles of hiking trails.